We have been closely monitoring the coronavirus (COVID-19) situation since the first cases were reported in China in January 2020. We are implementing contingency measures to ensure the health and safety of all our Temporary and or Contract Employees (Assignees), Permanent Employees and Client Employees against the Coronavirus (COVID-19). Due to the first COVID-19 cases reported in South Africa, we are sharing some of the responses we are putting into place. We are counting on your support and patience in our response to COVID-19.
Please keep in mind that every person has the capacity to contribute, to protect themselves, to protect others, whether in the home, the community, the healthcare system, the workplace or the transport system. As with many challenges today, the bulk of information being distributed on social media is either partially incorrect or completely untrue. We thus urge you to familiarise yourself with the information below on COVID-19 and watch the video from this link, which is accompanied by this document:  Corona Virus Webinar 10.03.2020 final.
Registration details below:
The Following refers:
INTRODUCTIONWith the Coronavirus arriving in South Africa we are faced with a potential significant communicable disease outbreak that requires comprehensive preparedness.The majority of us are inundated with information about the Coronavirus from newspapers, television, radio and social media and we must obtain the correct, most reliable information possible to make informed decisions and avoid misinformation that can cause panic.

We have developed a Coronavirus Caution Plan to deal with the potential outbreak within our Company and Client premises.

This is explained in summary further:

MANAGEMENT PRINCIPLES

COMMUNICATION
Our communication strategy is to provide information accurately, comprehensively and consistently within our Company.We will send the correct information out in the timeliest manner:
–  One source of information from our Company.
–  Communicating relevant topics.
–  Communicating using the most appropriate platform, in this case Channel Chat.
–  Education within our Company Regional Offices and Client sites by pinning up A2 posters:
TRANSMISSION PREVENTION + MITIGATION STRATEGIESThe measures, in coordination with Clients, to take to prevent transmission of the virus include:
–  (We to implement within our Regional offices) and urge Clients to place hand sanitisers at Client sites for all Employees and Assignees to utilise the same – first line of defence.
–  Implementing Rules around meetings, events and gatherings.
–  Evaluating local and international travel risks and restricting travel where necessary.
–  Generating awareness on personal spatial distances.
–  Refer to this document:  Corona Virus Webinar 10.03.2020 final.
PEOPLE MANAGEMENT – INFECTION IDENTIFICATION AND CONTROLIf an individual present with the symptoms of Coronavirus infection at work, steps will be taken to manage this effectively by following the Infection Control Guidelines provided by the Department of Health in conjunction with the NICD, which include:
–  On-site isolation
–  Referral to a designated treatment facility
– Testing and outcome management
–  Self-infection identification and home Isolation
–  Detailed information on the above will be provided by all relevant Parties to all relevant individuals through the information briefs and 'Toolbox Talks'.
We urge you to stay calm and be patient. According to the World Health Organisation (WHO) approximately 81 (Eighty-one) % of COVID-19 cases are mild, 14 (Fourteen) % moderate, while 1,96 (One. Nine six) % of cases are fatal. We urge you to utilise the app ** https://www.worldometers.info/coronavirus/ which (is in detail) indicates amongst others the following:
**DISCLAIMER OF ENDORSEMENT
We do not control or guarantee the accuracy, relevance, timeliness, or completeness of any linked information.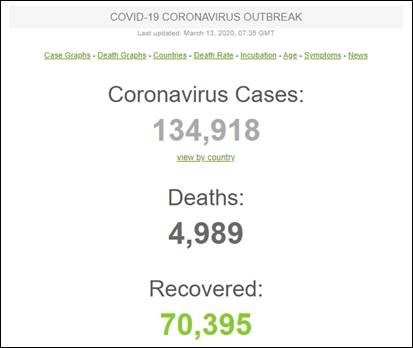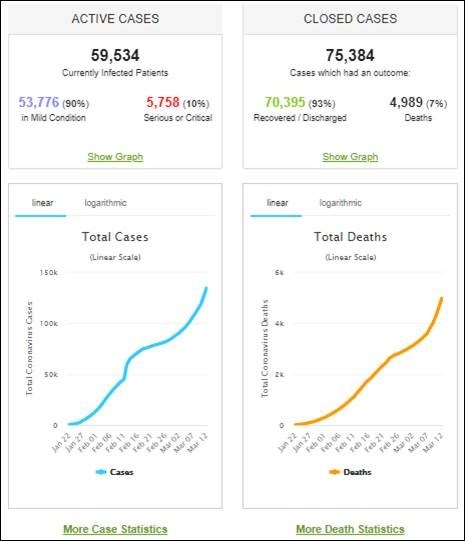 André Naudé Ph.D.